Fitness Foods That Are Quick And Easy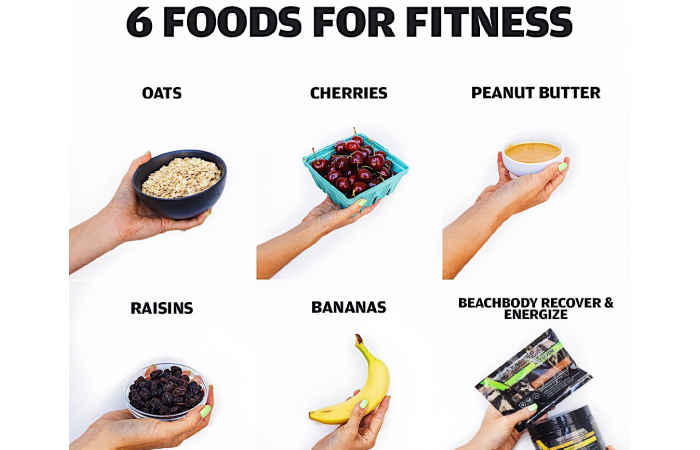 Fitness Foods Peanut Butter
Healthy fats and proteins provide sustained energy and protein to increase muscle performance. Add PB to a post-workout shake or make a ton of energy bars to keep in your gym bag.
peanut butter
Oatmeal
Not only is oatmeal a delicious breakfast, but soluble fiber also promotes heart health and controls blood sugar levels. A small bowl of fresh fruit makes a great pre-workout meal.
Greek Yogurt
Greek-style strained yogurt contains more protein and less lactose than unfiltered yogurt, making it a tasty option for sports enthusiasts. Fill with granola for a healthy snack or as part of a meal.
Bananas
Potassium-rich bananas are the ideal fruit to help tired and exhausted muscles. Freeze for extra creamy shakes.
Chocolate Milk
There is increasing data to support the idea that the balance of carbohydrates and protein in chocolate milk is excellent for post-workout recovery. For people who cannot digest dairy products, chocolate soy milk would be the best comparable dairy-free option.
Eggs
Eggs provide protein, omega-3 fats, vitamin B12, and even vitamin D. Eat both the yolks and whites for all the healthy benefits. Egg sandwiches make an excellent post-workout breakfast and eggs with potatoes for a healthy and filling weekend meal.
Walnuts
One ounce of walnuts provides 150 to 200 calories that are good for you; choose the higher protein options like pistachios and almonds after your workout.
Lean Meat
Animal proteins like meat, fish, eggs and dairy provide all the essential building blocks that muscles need to stay lean and muscular. Choose low-fat options like chicken and turkey breasts and lean beef.
Seeds
Seeds are another superfood option that provides protein, minerals, and anti-inflammatory omega-3 fats that help protect cells from damage. Flax, pumpkin, chia, and sunflower seeds are just a few of the irresistible options.
Many fish species might qualify as healthy foods. Still, salmon ranks high on the list – it's sustainable, low in mercury, easy to prepare, and packed with nutrients to promote healthy muscles and a solid cardiovascular system. Salmon is also one of the best sources of omega-3 fats you can find. Enjoy smoked salmon as part of breakfast or brunch, or make a hearty and healthy salmon burger for dinner.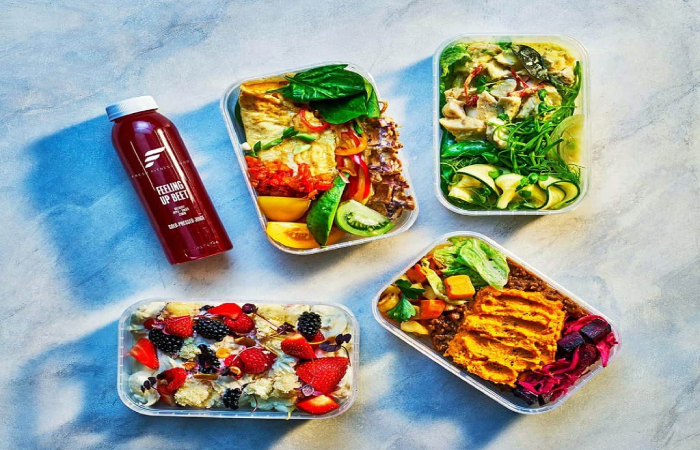 Food Network Chefs' Fitness Foods Secrets
Winter demands tasty food, whether it's bitter weather, short dark days, cozy sweaters, or fluffy coats. And while you're likely looking for something cheesy, warm, and hearty to keep your cool this time of year, so do the chefs on the Food Network. FN Dish met Bobby Flay and Michael Symon at the Borgata Hotel Casino & Spa in Atlantic City, and we asked the kids to share their favorite sweet and savory. What we have found is that proven classics have the upper hand with Comfort Food.
Chefs' Picks: Veggie Comfort Fitness Food
Both Michael and Bobby agreed that classic fried chicken is one of their main dishes, but it has to come with work for Bobby. "I want the rotisserie chicken and all the roasted vegetables you cook with it [and] the skillet sauce right off the grill
On the other hand, Bobby had a strong tendency toward "all kinds of cookies," a decadent dessert (pumpkin bread pudding), and a mix of morning foods.
"I like a leisurely breakfast and brunch. I'm a fan of brunch," Bobby said. "I like things like waffles, pancakes, and French toast." He added that he also takes bowls of steel-cut oats but refines them with sweet seasonings and spices. "I accept the oatmeal, boil it in boiling water for a minute the night before, and then leave it in the pot overnight so that it somehow blooms and softens. Then the following day, it takes me about five minutes to cook it. And I add cinnamon and nutmeg and a little honey or maple syrup. And then I fill it with some Greek yogurt and some cooked berries. "
Also Read: MYFITNESS Original Peanut Butter Crunchy 1250g Buy Online
How to Solve [pii_email_49421343b3768b8616fb] Error?
[pii_email_9adeb2eb81f173c673a5] Error Resolved In Outlook
Related Search
[body fitness food list]
[body fitness food chart]
[healthy fitness food]
[body fitness diet]
[body fitness food list tamil]
[the best fitness foods include]
[what to eat to stay healthy and fit]
[body fitness food list in hindi]
[fitness workouts]
[fitness and exercise]
[types of fitness]
[body fitness]
[fitness advice]
[health and fitness]
[diet foods]
[types of foods]
[foods to eat everyday]
[healthy foods]
[foods journal]
[best foods]
[top 10 healthiest foods]
[foods scimago]